Bifolding Shopfronts in London
The Ashley roller doors are the biggest provider of glass shop front doors and Bifolding Shopfronts across London. As we can see, the name of this door specifies the two ideas that are attached here. So, if the shopkeeper sees that there is a limited crowd inside the shop, he can open only two doors. This process can save the whole access space from being used. In the case of a healthy crowd, your doors can open to the width of the entrance. These doors are connected with the help of hinges. When the doors get shrunk to the last ends of the doors, they give the full space to your shop customers. We manufactured these bi-folding doors with great precision and as per the needs of the customers.

BEST FOLDING SLIDING DOORS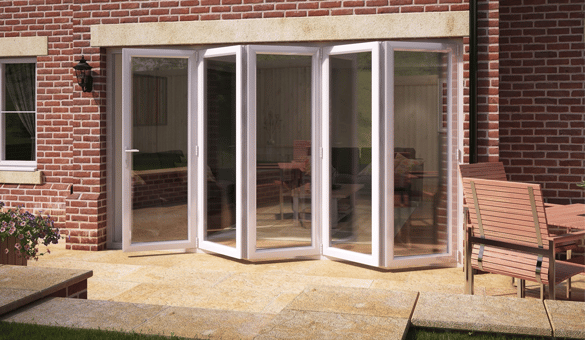 Aluminium Bifolding Shopfronts Doors in London
The annual operation of bi-folding doors is the old process now. Our new doors, like glazed shop fronts, now come with sliding features. It needs only a little effort to open and close these doors. The bi-folding shop fronts make sure that these doors are specially created to meet the customers' demand. We guarantee that our automatic door store will fit any size opening. We are not so popular because we supply our shopfront shutter repair in London but also install these doors as per the customer's specification. Our services for aluminium bifold doors are also among our specialties. Aluminium gives the glass strength and allows it to slide easily. These types of doors can always be attractive with a range of colours. We also provide high-quality hinges and other finishing touches to support the sliding motion of the doors.

Let the outside in with aluminium bifold doors from Ashley Roller Doors.
Our aluminium bifold doors are the best for all residential as well as commercial sectors. We give you a wide range of choices – colours, handles, and bottom rails – to nail the perfect look you're aiming for.
Here Are a Few Reasons Why You Should Choose the Ashley Roller Doors for Folding Sliding Doors in the UK:
Suitable for exterior and interior (as room dividers) applications.
Our company offers a wide range of powder-coated colours and textured finishes to select from.
high-quality substances that are long-lasting and stand up to heavy usage.
A complete variety of offerings – web page analysis, design, manufacture, delivery, and after-sales maintenance.
Exceptionally slim sightlines give you a seamless finish.
All our doors are appreciably climate-tested and will remain for years to come, barring any troubles.
Besides aluminium bi-fold doors for shops and homes, we also provide a wide range of roller doors and shutters to our customers. Get in touch with our team to get a free consultation for your projects.
Some Important Services for Our Bifolding shopfronts Doors
Bifolding shopfronts doors are a popular choice for homeowners and businesses of all sizes. Not only are they convenient, but they also offer several benefits that can make your life easier. In this article, we'll explore some of the reasons why bi-folding doors are such a great choice and provide you with some tips on how to choose the right one for your needs.
Services for Repair and Maintenance
If you're looking for reliable bifold door service, look no further than our team of Ashley Roller Doors technicians. Our team is committed to providing high-quality repair and maintenance for all makes and models of doors. We can help with everything from fixing a broken hinge to installing a new locking mechanism. Trust us to keep your doors running smoothly.
Some Benefits Of Bi-Folding Doors
When it comes to bi-folding doors, there is no one better than our team at Home Services. We provide a wide range of bi-folding door services that are certain to meet your requirements. Moreover, from simple repairs to installations, we have you covered.
Here Are Just a Few of the Benefits of Working With Us:
-We have years of experience in the industry. That's why we are always up for a challenge.

-We always use the latest and most advanced equipment when performing repairs or installations.

-Our prices are incredibly reasonable, making us an affordable option for all your bi-folding door needs.

If you're looking for quality bi-folding door services, look no further than Home Services. We're the perfect choice for anyone looking for top-notch customer service and unbeatable prices. So, contact us today to learn more about our services!
Installation
If you're considering a bifold door installation, be sure to contact the experts at The Bifolding shopfronts. We've been installing top-of-the-line bifold doors for years and know just what's needed to get the job done right. Plus, our team is incredibly knowledgeable about all things doors, so we can answer any questions you may have about our products. If you have an interest in learning more about our services, be sure to browse through our website or give us a call. We'll be happy to answer any of your questions and provide you with a free consultation.
Conclusion
The benefits of using our bi-folding door service are manifold. Not only do they save you time and effort, but they also provide an aesthetically pleasing solution to your door needs. Not to mention, they can be used in a variety of settings, from homes and offices to retail stores and hospitals. So, if you want to install all new shop front doors at your location or even repair your existing shop front doors, contact us right away.
We can design, supply and install industrial, commercial and shops front doors on urgent basis.