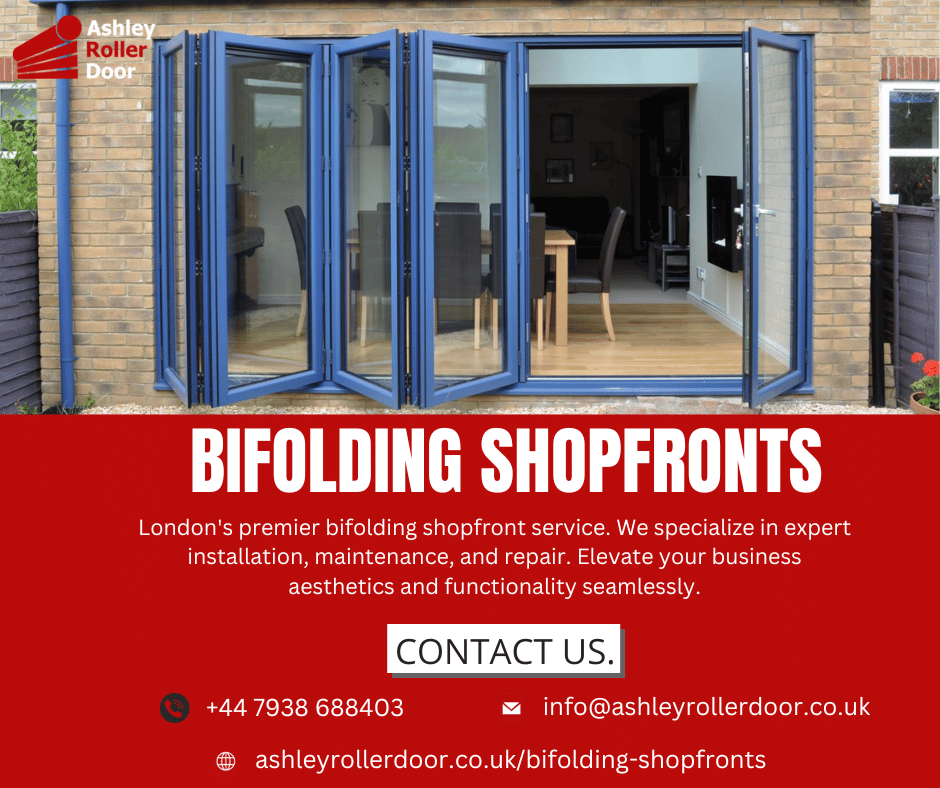 Advantages of Using Bifolding Shopfronts
Due to its convenient layout and sleek design, bifold doors are becoming popular in both commercial and residential settings. Commercial storefront doors are crucial to the success of any business, but those that are both functional and aesthetically pleasing are especially important for attracting and retaining consumers.
The Many Benefits of Bifold Doors
Fashionable Appearance
An attractive storefront is important because it attracts clients and draws in foot traffic. Sliding aluminum doors have a streamlined frame that may update the design of any structure. The powder coating on the Aluminum frame improves the door's aesthetics as well.
The frame comes in a variety of colors so you may find one that goes with the decor of your building. Bifolding Shopfronts can be found with a wood grain finish, making them a suitable replacement for windows made of wood. The wide variety of color options means you may give the door a look that's uniquely you. To further customize the door's appearance, you may select from a variety of glass options, including solar control, double glazing, and even triple glazing.
Superior Light Sources
The glass in your Aluminium Bifold Door lets in lots of fresh air and light, giving your building a cheery vibe. Sliding doors allow far more natural light to enter a structure than conventional swinging doors. When installed, bifold doors maximize the amount of natural light that enters a building, making it seem much more open and airy.
Facilitating Adaptability
Sliding aluminum doors provide versatile access by allowing you to open the door all the way or only a section at a time. Standard sliding doors, which only allow for a partial opening, prevent this from happening.
When the weather is nice, you can open the bifold door all the way for easy access, but when it's raining, you can only open a section. An access door, which requires just one leaf to be opened, is another option. Adaptability is a significant benefit of Shopfronts.
Reduced Need for Floor Space
Doors for commercial establishments should be made as space-efficient as possible. Due to its space-saving accordion design, bifold doors are preferable over French doors when space is at a premium.
You may choose the number of door leaves, the width of the individual sashes, and whether or not they fold inward or outward when installing bifold doors. In commercial settings when lobby space is at a premium, this function might be very welcome. Since bifold doors fold neatly when not in use, they don't get in the way of foot traffic. As a result, these entrances are convenient in buildings when space is at a premium.
Safer Transactions
Because of this, you should give serious consideration to the door's security features before making your final decision. When it comes to safety, bifold doors are superior to conventional sliding doors and French doors. There are several locking points along the sliding track of a bifold door. When compared to doors with only one locking point, doors with numerous points are far more secure.
Minimal upkeep
Timber frames are high maintenance due to their susceptibility to decay from water absorption. Warping, expansion, and contraction are all possible in PVC frameworks. Therefore, both PVC and wooden frames can degrade and age badly.
However, aluminum frameworks may be expected to look just as good after many years have passed. They are also low-maintenance. Aluminum frames often just require an occasional washing with soapy water. Because of the powder coating, the frames are protected from scratches and fading.
Length of Life Expectancy
Strong alloys with good thermal efficiency are used to construct the frames of aluminum bifold doors, making them both waterproof and long-lasting. Aluminum frames are a good investment since they endure longer than those made of other materials. Aluminum is both non-porous and corrosion-resistant. Strong metal frames can support bigger panes of glass, providing a stunning glimpse of the world beyond. Folding Sliding Doors benefit from aluminum frames because they allow more light in.
Aluminum's malleability makes it a useful material for a wide variety of applications. The frames' minimal profile keeps the view unobstructed without sacrificing safety.
Eco-Friendly
About 70% of all aluminum ever produced has been recycled, according to the figures. Sliding doors are more eco-friendly than swinging ones because of how little energy is needed to recycle aluminum.
When properly manufactured and fitted, bifold doors fold back on themselves in a smooth, effortless motion. Being easily stacked, they make the most of available floor space. Shopfronts are quickly becoming the door of choice for both homes and businesses because of their superior adjustability and durability.