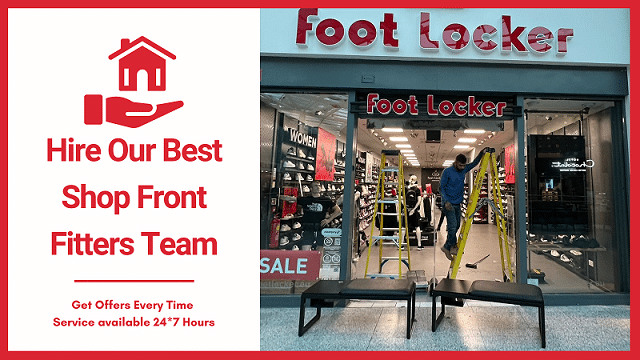 Upgrade Your Store Front Look By Professional Shop Front Fitters
Keeping up with trends in the shopping industry is key to ensuring a successful business. Nowadays, it seems like anyone can open up their own shop and start selling goods. But if you want your storefront to stand out amongst the competition. Then investing in our comprehensive Shop Front Fitters services based in London could be the answer you've been looking for! Stay tuned for this article where we will provide you with all the details on these services and why they offer great value for small business owners and larger retailers alike.
Introduction to Shop Front Fitters Services
Our Shop Front Installation services in London are designed to help you improve the look of your business premises. We can provide a range of services to help you achieve this, including signage, branding, and shop fitting. We will work with you to understand your specific needs and requirements. And create a bespoke package that meets your budget and timescale. Our team of experienced professionals will then carry out the work to the highest standard, ensuring that your new shop front makes a positive impact on your customers.
Fitting the Shop Fronts in Different Locations
Different stores have different shop frontage requirements depending on their location. Ashley Roller Door can provide a variety of storefront fitting services to help you get the right look for your business.
If you're located in a busy area with lots of foot traffic, you'll want a shop front that is eye-catching and inviting to potential customers. We can also help you choose a shopfront design that will make your store stand out from the rest.
If you're located in a more subdued area, you may want a more classic or understated shop front. We can work with you to choose a design that will fit in well with your surroundings.
No matter what location you're in, we can help you find the perfect shopfront for your business. Contact us today to learn more about our storefront fitting services.
The Finishing Touches: Creating a Memorable Look for Your Business
To finish off your new shopfront, our professional Shopfront Installation services include installing LED lights, security grilles, and other types of signage. We can also help you with the design and installation of awnings, canopies, and facades. With our years of experience in the industry, we can create a look that is both stylish and unique to your business. 
Finally, don't forget the finishing touches that can really make your shop stand out from the crowd. Adding in window treatments such as blinds, shutters installing, or curtains will add a touch of elegance to your shopfront and can provide extra insulation too. A good doormat also helps to make a good first impression and reinforces your brand identity.
Advice on Keeping Shop Fronts Secure
When it comes to keeping your shop front secure, there are a few things you can do to make sure that your business is protected. Here are some tips by our Glass Shop Front Fitters on how to keep your shopfront secure:
Install security cameras and an alarm system:
This will help deter potential burglars from even attempting to break into your shop. By making your shop look secure and well-protected, you can create an environment that is not inviting to burglars
Keep valuable items out of sight
If potential thieves can see high-value items in your store, they may be more tempted to break in. Keep these items stored away in a safe or locked room.
Use strong locks on doors and windows
This will make it more difficult for burglars to force their way into your shop. consider using deadbolts or other heavy-duty locks for extra protection.
Install outdoor lighting
This will help deter criminals from lurking around your shop at night. Make sure to use bright, motion-activated lights so that potential burglars are caught off guard if they try to approach your store after hours.
Stay vigilant
Be aware of who is coming and going from your shop, and report any suspicious activity to the police immediately. By taking these precautions, you can help ensure that your shop remains safe and secure.
Conclusion
Our Shopfront fitting services are designed to help you upgrade your London store look and give it the edge that it needs. We provide a comprehensive service that encompasses both design and installation. We also deliver a fully customised, attractive look tailored precisely to your own individual requirements. With our skilled team of Shop Front Fitters and experienced designers working hand in hand. We believe that you can create a unique shop front that will draw customers from near and far into your store. Whether you have an old established store or if this is your first time opening up an outlet on the high street. Investing in our professional services could be just what you need for lasting success!